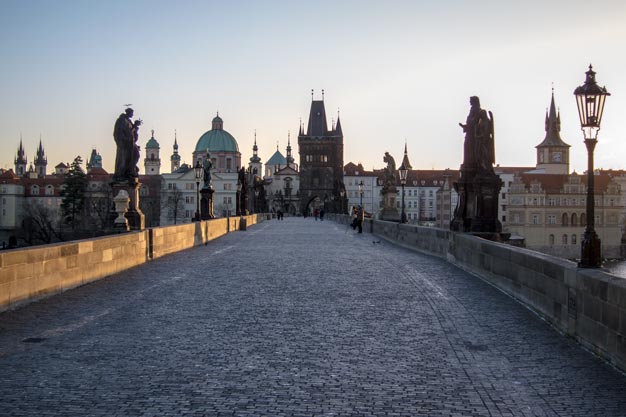 Feel like a local
If you want to really enjoy your stay in Prague, slow down! Don't hurry; don't try at every cost to "tick off" every tourist attraction you read about in your travel guide. You're best off avoiding the main tourist routes with their crowded sights, overpriced restaurants and shops with kitschy souvenirs. Instead of finding out historical facts, names and art styles connected with Prague monuments, take a good look around you and really get a sense of the places where you are. Instead of taking thousands of pictures try to remember what you simply see. Let yourself take in the sounds, smells, tastes. Share your joy with your friends and travelling companions.
Prague has much more to offer than just Charles Bridge, Prague Castle, the Jewish Quarter and the astronomical clock in the Old Town Square. There are plenty of other spots that can give you an intense experience. Prague's charm is made up not only of historical monuments, but to a great extent also its terrain and everyday contemporary life. Climb the Prague hills and enjoy the views, stroll along the banks and isles of the Vltava river. Leave the historical centre behind for a while; sit down in local cafés, restaurants and pubs. Avoid shops with tawdry souvenirs and shopping centres with international brands. Why not instead buy something original made by young Czech artists, art designers and fashion designers in a small shop or gallery? Walk through the parks of Prague and have a picnic. Don't get lured by touts and, instead of a concert held for tourists, get a taste of the authentic local culture.
Arrival to Prague
Currency exchange
Although the Czech Republic is a member of the European Union (EU) it uses the Czech Koruna (CZK) as its currency. Here are the current exchange rates by the Czech National Bank (ČNB):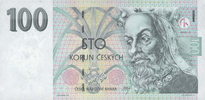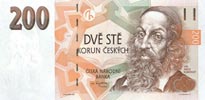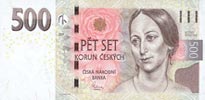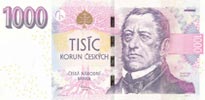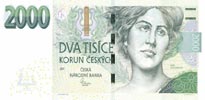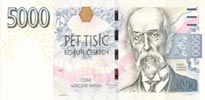 5000 ≈ 210 EUR or 225 USD
If you arrive by plane or train, don't change money at the airport and the main train station. The exchange offices there have unfair rates and commisions. If you have EURO bills, you can "change" them to Czech Korunas, if you go to the BILLA Supermarket (airport terminal #2 or the lowest level of the train station) or Starbucks (airport terminal #1). Buy something small and you will receive back Czech Korunas. Billa and Starbucks have a good rate, much better than exchange offices at the airport and train station.
If you need to exchange other foreign currencies after your arrival to the main train station (Praha – Hlavní nádraží), there is the only reliable exchange place – the desk #11 at the main ticket office of the Czech Railways company (ČESKÉ DRÁHY) at the lowest floor of the station. Avoid all the other exchange places at the station.
Be also careful changing money in the city centre. Choose only exchange offices with 0% commission and good rates (as much as close to the rates by the Czech National Bank; see above). Avoid places that charge high commission fees (up to 30%!) or buy 1 EUR for an exchange rate lower than 23 CZK. 
ATMs
If you want to withdraw from an ATM, always choose the option "WITHOUT conversion" (the LEFT button)! If you withdraw with conversion (= a very bad rate), you lose about 10 % of your money. For more details go to Rick Steves' Travel Tips.
Use ATMs of the reliable Czech banks: Česká spořitelna, KB, UniCredit, ČSOB or Raiffeisen (if possible, avoid ATMs by Euronet). Most restaurants and stores accept cards, so you usually don't need to withdraw more than CZK 2000 (around 84 EUR or 90 USD).
Public Transport
The Prague public transport is cheap and reliable. For the journey from the airport, you need to buy a 90 minutes ticket (fare 40 CZK). You can buy it and pay by card at the Czech Tourism info centre (usually no queues) or Prague Public transport company stand (usually longer queues). It is also possible to buy a 24-hour pass (120 CZK). There are also vending machines (with a touch screen) at the bus stop that accept cards. Don't forget to validate (stamp) your ticket, when you get on the bus #119 (direction Nádraží Veleslavín, green A-metro line) or #100 (direction Zličín, yellow B-metro line). Don't validate the ticket again, when you change to metro or tram.
The Google Maps Route Planner includes connections and timetables of the Prague public transport. For more details go to the Prague public transport website or watch the useful videos by Janek Rubeš (aka Honest Prague Guide).
Read and watch before you arrive
If you have chance, get a free printed copy the USE-IT PRAGUE MAP with great insider's tips (see the list of distribution points) or download the PDF.
Watch other useful videos by Janek Rubeš (HONEST PRAGUE GUIDE), especially "The Only Video You Need to Watch" (2023) and "10 Tourist Traps in Prague" (2016).
My favourite spots
Join me for a private walk or bike tour. I'll be happy to recommend other interesting places, nice restaurants, cafés, music clubs, cultural events etc. to make your stay in the Czech Republic more colourful.
fashion, design & jewellery stores
Eat and drink like a local
I like good food prepared with love and care. I am always happy to recommend to my friends newly opened as well as traditional restaurants, bistros, cafés and bars with an agreeable ambience, friendly staff and reasonable prices. Come for a private walk or bike tour with me and enjoy my favourite places to eat and drink!
Czech cuisine & beers
(restaurants, pubs & microbreweries)
cafés, coffee shops and café bars
dessert shops, bakeries and ice cream