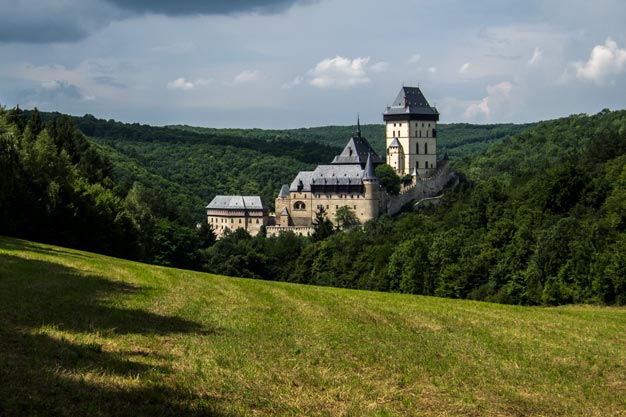 Karlštejn Castle, Woods & Views
Do you like to hike?
Do you want to avoid crowds, tourist traps and kitschy gift shops?
Hundreds of tourists visit the famous Karlštejn Castle every day. However, most of them take a traditional tour, and they miss the chance to visit the most impressive parts of the castle and to enjoy the most scenic view of the castle surrounded by woods. If you join me for a walk, I'll be happy to show you the Karlštejn area from a different perspective. My ancestors settled in the Karlštejn village more than one hundred years ago, and part of my family still live here. I like to walk in the forests around the castle, and I know many beautiful trails off the beaten track.
meeting place / Prague Main Train Station (Praha, Hlavní nádraží).
If you stay in districts Praha 1 or 7, I can pick you up at your hotel.
duration / approx. 7 hours
start / 9.00–9:30 am — return to Prague / around 4:30–5.15 pm
total destination / basic hike: 9km / 5.6mi (extended version: 16km / 10mi)
BASIC ITINERARY
— 35 min ride from Prague by train
— 2,5 km walk (no crowds, no kitschy gift shops) to a hidden meadow with a spectacular view of the castle (a great photo spot)
— 1 km walk to the Karlštejn Castle
— courtyards of the Karlštejn Castle
— facultative guided tour: The Great Tower View 
(40 minutes; entrance fee: CZK 200 per person)
— 0,5 km walk to a local restaurant (lunch around 1.15 pm)
— 5 km walk (through woods and meadows) to the train station
— refreshment in a local café
— 45 min ride to Prague by train 
FULL-DAY HIKE
single traveller
CZK 2300 / EUR 99
group of 2
CZK 3000 / EUR 129
3rd, 4th (…) person
CZK 790 / EUR 34
discount – child or student (up to 25 y.o.): CZK 120 / EUR 5 off
the price includes / train tickets in the Central Bohemian Region
the price does not include / food & drinks and entrance fees