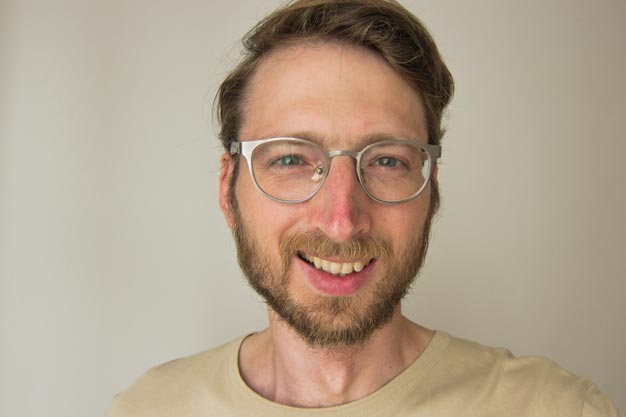 Local Enthusiast
I enjoy meeting open-minded people who like art, architecture, design, culture, nature and good food. During the three decades of my life in Prague, I have gathered a lot of experience and knowledge about my birthplace and I would be delighted to share this with you.
If you want to get to know Prague and Bohemia from a less traditional perspective, maybe in relation to your profession or hobbies and are looking for someone to assist you, I will do my best to help you enjoy your stay in the Czech Republic. I like improvisation, looking for new solutions and finding out new information. I am a licensed guide of Prague and I have a master's degree in art history.
My Life in Prague (and Beyond)
I was born in Prague in 1976. I spent most of my young days in the area where ŽIŽKOV and VINOHRADY converge, suburbs with fine apartment buildings dating from between the late 19th century and the 1930's. In Vinohrady I loved the alleyways and Riegrovy sady – a park with beautiful view of the city centre and Prague Castle – and I was fascinated by the monumental Church of the Most Sacred Heart of Our Lord (kostel Nejsvětějšího srdce Páně) by the renowned Slovenian architect Josip Plečnik in the Jiří z Poděbrad Square.
I also spent a lot of time in the steep streets of Žižkov and on the Parukářka hill with its unique view of the city. I would visit my grandparents as well. My Dad's parents lived in HOLEŠOVICE, a district with an "American" rectangular street grid developed in the first half of the 20th century near a busy river harbour, while my Mum's parents resided on the banks of the Vltava river in the NEW TOWN (Nové Město), where the historical buildings (dating back as far as the Middle Ages) blend together with modern day architecture.
When I was 13, I became curious as to why visitors from all over the world would come to Prague, and I began to explore the historical centre of the city on my own: the OLD TOWN (Staré Město), LESSER TOWN (Malá Strana) and PRAGUE CASTLE (Pražský hrad). My desire to get to know new places spread beyond Prague as well. On weekends and during the holidays I took a lot of cycling trips, in particular in the scenic forests of the nature reserve around the medieval CASTLE KŘIVOKLÁT. After secondary school, I further indulged my interest in Prague by completing a guide course with the Prague Information Service and obtaining a guide's licence. I also started my studies of art history at the Charles University in Prague.
During my one year study stay at LEIPZIG University, I came to appreciate a crucial fact: the ability to look and think is more important than knowledge of historical styles, names and dates. As time went on, I realised that by focusing on the confined field of "high" art only, I was going to miss out on a whole lot of other phenomena that might otherwise enrich my life. I began to find more pleasure in visiting seemingly commonplace urban and natural spots than in the professional research of works of art.
After returning to Prague, I lived in the neighbourhood of PETŘINY (in the west of the city), which consists of family houses, student dormitories and panel buildings from the 1960's and 70's. I could go for a jog in the nearby gardens of the Břevnov Monastery or in the park around the Villa Hvězda (Letohrádek Hvězda), in-line skating in the park Ladronka and for walks in the rocky valley Divoká Šárka. After finishing my MA degree I started work at the NGO Portus Praha. At that time my interest in graphic design was getting stronger and stronger. From 2008–2013 I was an enthusiastic member of the graphic studio Designiq, where I worked mainly in design and typography. I loved my job; however, I decided to substitute the all-day sitting at the computer with a different type of activity.
At present I enjoy my life in HOLEŠOVICE. I like the community garden Prazelenina, shopping at the local farmers' stall in hall no. 22 of the Holešovice market and admiring the raw atmosphere of the former river harbour. I love the parks Stromovka and Letenské sady and the nearby district of Letná. This district, with beautiful apartment buildings from the turn of the 19th and 20th centuries, abounds in nice cafés, restaurants, bistros, bars and beer gardens, while at the same time offering plenty of culture thanks to its museums, galleries, an art-house cinema and fringe theatre. Sometimes I visit my relatives in KARLŠTEJN and walk through the beautiful landscape around the castle.